Spose To Release Double Album "Get Rich Or Die Ryan" October 20th
Spose continues to be one of the hardest working artists, not just in Maine but in the entire country, with the announcement of the double album Get Rich Or Die Ryan, set for release on October 20th. The announcement was made via Instagram with Spose talking with his real-world self, Ryan.
The new double album includes Spose with his live band The Humans as we well as guests including Dominic Lavoie, Crucify Adam, bensbeendead, Jeff Beam, Matt Giard, Termanology, Jerv, & Jxck.

Old school 90s alternative rock fans will appreciate the physical edition comes in the old big plastic box that you probably encountered when you first bough Mellon Collie and the Infinite Sadness. Deluxe, and SUPER deluxe are also available for preorder. In true Spose fashion, the deluxe editions come with special extras just like previous albums (you may remember his 2017 album Good Luck With Your Life that had special "Grandma" edition that came with a handmade cross stitch). The deluxe version comes with a special Spose memory game and the super deluxe version comes with a Spose action figure handmade by Wicked Joyful.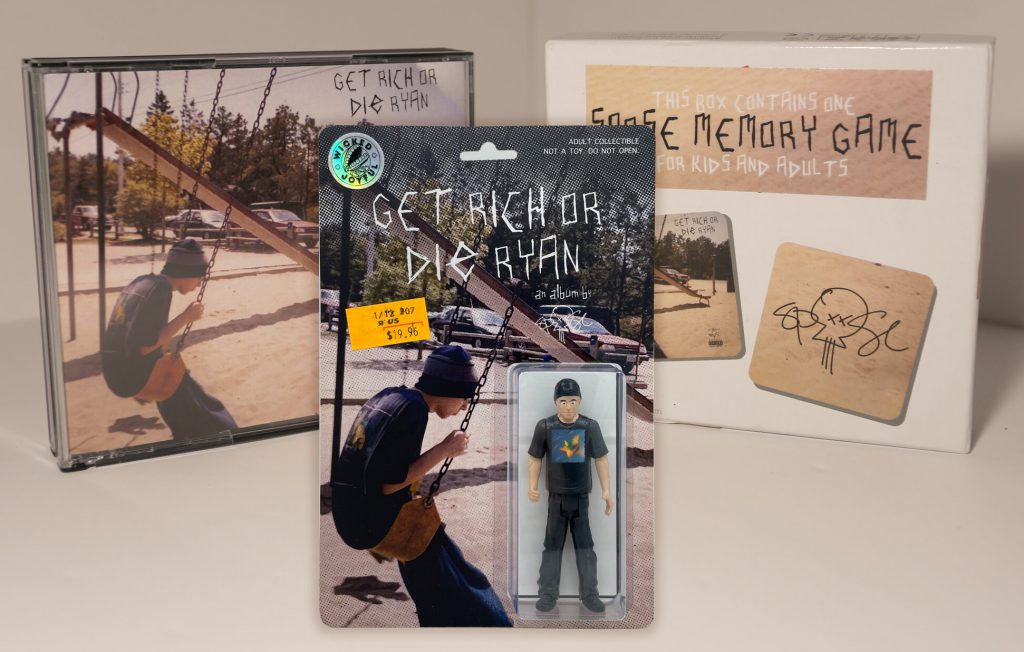 Get Rich Or Die Trying tracklist
Disc 1: Spose & The Humans – Get Rich
Self Destruct (with Dominic Lavoie)
Self Help!
Here We Go Again (with Matt Giard)
World War Blues
Sieve
It's Alive
Alien (with Crucify Aidan)
Beautiful Day To Do Nothing At All
Dudes
Motherfuckers
Parking Lot (with Jeff Beam)
Hey Big Guy
Shining
Disc 2: Spose – Die Ryan
Still Sellin
My Own Way (with Jay Caron and Bensbeendead.)
Nadal (with Termanology)
Metal Band (with Jarv)
Hypocrite
Parasite (with Bensbeendead.)
You Don't Get Me High (with Shane Reis and Anna Lombard)
Gym (with Jxck)
Hotline
Back In The Bag (with Jxck)
Better With Time
Signing Off (with Bensbeendead.)
Roll The Windows Up
Close to Me (with Jeff Beam)
Fans can preorder Get Rich Or Die Trying at sposemusic.com