Renée Coolbrith Releases Long-Awaited Solo Album "A Killer Named Sugar"
Maine songwriter Renée Coolbrith is no stranger to fans of the Maine music scene. Coolbrith has been a staple of studio and stage performances with Spose, Sarah Violette, OHX, Shane Reis, & Joel Thetford. In addition, Coolbrith is also a member of bands Dearing (with Michael Koharian) and Pretty Sad with fellow Maine songwriter Dustin Saucier. Now she's released her long awaited solo LP; A Killer Named Sugar.
A Killer Named Sugar is a concept album that's also a sort of collection of short stories like a comic." Says Coolbrith. "The concept behind Sugar being a killer is that it trains our reward systems for highs and lows at a young age. That beastly part of the human animal that needs to seek and destroy and create is an angst that I find is easily manipulated by sugar. So many people with dysfunctional lives from trauma, find themselves in the trap of addiction to the highs and lows of their reward system that gets fed, similar to how we receive sugar. The concept is also about how so many things can taste sweet, but still be poisonous. Sugar is kind of the ultimate magician.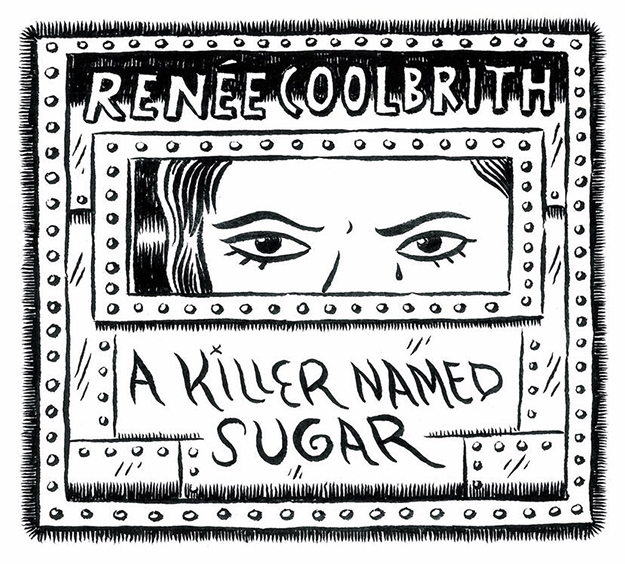 The album is a solo record by name but the entire project came out of collaboration between Coolbrith and some of her musical friends, including producers Andrew Mead (OHX, The Other Bones), Evan Haines, Darryl Collins, & C Money Burns of Vinyl Cape. Coolbrith breaks down what some of the producers brought to the project; "I always feel super fortunate to get to see the way Mead builds a song with me. He helped me bring "Sign" and "Small Cities" totally to life. C$ burns is thoughtful and slick in his dark approach to the productions he let me write over "Flowers Are Evil", "Sister Asylum", & "Lights Out". The personality in his production and the personal elements, really are a beautiful part of his artistry. Darryl Collins who produced "NOBODY ELSE". an absolute sonic heart hug. Darryl is a gem of a person and a musical force. Excited for what's in the works with him."
In addition to the producers, artists joining the album as performers and co-songwriters include Luke Mallett,(The Mallett Brothers Band) Kris Rodgers,(The Dirty Gems), Charles Berry III, Jon Truman, Caleb Sweet (Chris Ross + The North), & Joe Harding. The album was mixed by Jon Wyman and mastered by Adam Ayan.

In closing, Coolbrith adds "This album getting released has meant the world. Start fires. Stay sweet n spooky y'all"